The landscape around the cider mill is dominated by forests and agricultural areas – meadows, farmlands and orchards. One of the most characteristic features of the Dynowskie Foothill landscapes are the hills crossed by a network of clean, nameless streams (potoki) , sometimes drying up in the hot summer. Their sources are often hidden in a somewhat mysterious wet bush, full of trees, tall grass and wild animals.
Here and there in the streams you can still find ruins of old wooden huts and wild apple trees planted by former settlers.
Potoki is a dry still cider, perfectly clear like a mountain stream. A coupage of old apple varieties gave it a distinct acidity and apple aromas accompanied by citrus notes obtained as a result of slow, "cold" fermentation on selected yeast.
Well chilled, it is refreshing on hot days like the shade of trees by a stream. Naturally clarified in the aging process, not filtered, it delights with its deep color and light reflections in the glass. In winter, when served with lunch or dinner, it will be a great companion, for example, to baked trout. Or as a base for mulled cider, dry or with a little honey. Add the cloves, cinnamon, ginger and orange particles and you will feel how the drink and spices warm your body and stimulate your senses.
Pressed, fermented and bottled manually in our cider mill. Unfiltered. Potoki is available in 0.75 liter bottles.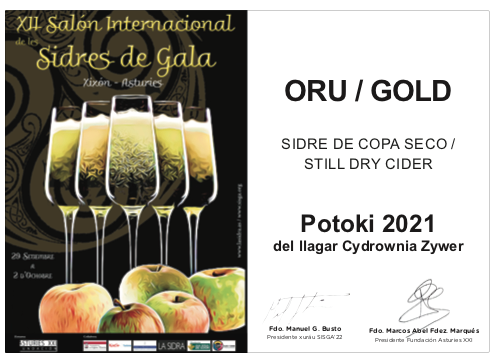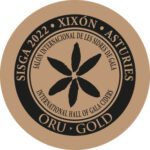 mediterranean cuisine, poultry, lamb
GOLD in Still Dry Cider SISGA 2022 Astruria Spain